Fashion inspiration:
luscious luxurious Renaissance gypsy meets haute couture!
Worn by Leighton Meester, at the Salvatore Ferragamo show.
This is a perfect summer look, but one that's sophisticated enough to also be worn in the fall; it has bare shoulders and loose arms, making it easier to wear in the heat, but is in rich colours, which is perfect for fall. It's the perfect outfit to let out your inner gypsy, while still being elegant, if that's the kind of style you like!
A way to emulate this look: don't shy away from showing a touch of skin, experiment with clothing shapes and drapery optimal for the heat - loose sleeves, flowy silhouettes - and fill yourself up with beautiful colours and patterns!
Wear culture on you!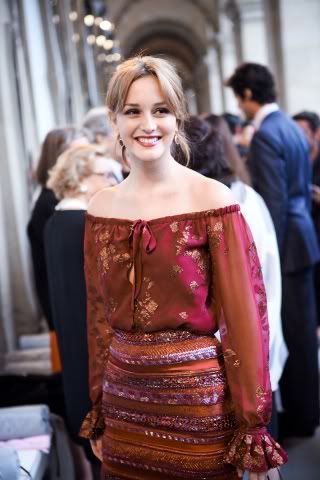 Are you a fan of this look, or have anything similar to it in your closet?
XO,
Laura
Photos courtesy of blairwaldorfs.livejournal.com