Every so often, on Saturday afternoons, we go to my grandmother's (we'll call her Mami) for tea. It's funny - I've realized that whenever I do that, I gravitate towards this little jacket and the shoes I'm wearing which are pictured further down in the post. Maybe because it's classy - the shoes and jacket remind me of Audrey Hepburn, which reminds me of being classy, which I guess kind of reminds me of afternoon tea?
Anyways, this tea time is really nice - we spend time together as a family, eat yummy fruit or pasteries, drink yummy mint tea in moroccan tea glasses, we relax, talk... And although we don't practice religion (Judaism) very strictly, my grandparents do, so out of respect for them we put away our cell phones, which aren't allowed on Saturdays (Shabbat) - we put away all electronics, basically. That's the icing on the cake. I find that, over time, on both sides of my family, cell phones have become an integral part of the dinner table - people will be texting while eating with family sometimes! Anyways, it just bothers me, which is why I like having a reason for everyone to put their phones away :).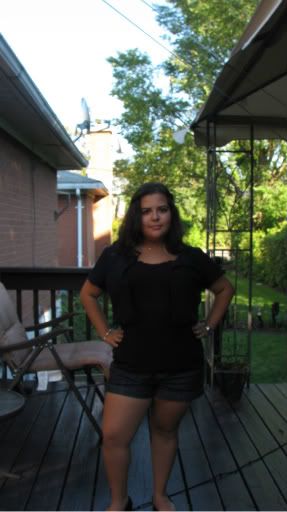 This outfit definitely reminds me of Audrey Hepburn - the jacket has a simple and structured shape, and look at the flats I'm wearing! I think Audrey Hepburn definitely would've been drawn to them. They're amazing, I usually don't find flats comfy but they're the comfiest I have,
and
they're classic. :)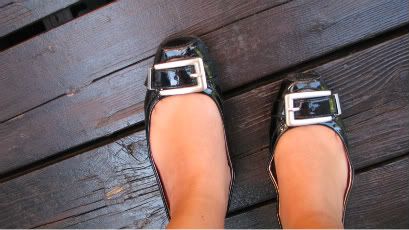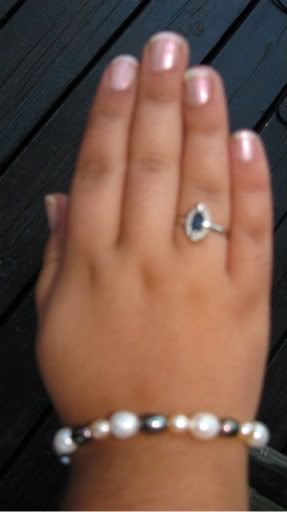 The diamond and sapphire ring my grandmother gave me for my 16th birthday. It's the first piece of jewelry she bought after immigrating here from France (which was after she lived in Morocco. In case you were wondering?)
How adorable and classy is this purse?! It's my Mom's from the 80's, and you'll
never
guess where it's from. I mean, it looks pretty classy, right? White version of a Chanel purse? (Well, okay, it
does
look a little cheaper than that, haha...)
WELL, it's actually from
Las Vegas!
Who'd have thought?
My question for this post:

as much as I want to ask a question about how stupid it is to not have big clothing chains like Target and Macy's in what people consider the fashion and artistic city of Canada, and in Canada in general, I'll restrain myself and wait for another post

do you find yourself gravitating towards a certain item of clothing or accessory for certain events? Like a certain pair of shoes for all black-tie events because they make your legs look amazing, or a certain jacket or skirt for when you go out for brunch, just like I gravitate towards the flats and jacket for tea? Why do you think you gravitate towards those pieces for that specific event?
XO,
Laura
What I'm wearing:
tank top: Kohl's (bought on vacation and out of the country, of course).
Jacket: H&M (bought on my high school graduation trip to NYC, actually...)
Jean shorts: Macy's (bought on vacation and out of the country, of course).
Flats: Macy's (bought on vacation and out of the country, of course).
Purse: vintage from Las Vegas, informally gifted/handed down from Mom.
Pink/gray/beige bracelet: gift from Mom.
Sapphire and diamond ring: gift from my grandmother, Mami.
Gold heart necklace - gift for my bat mitzvah from close family friends.
Nail polish - an old colour from the Gap.