And by week, I mean almost two weeks. I knoooow, a "my week in instagram pics" post isn't entirely original, but I can't think of any other way to communicate how cray busy the past 2 or so weeks have been! Honestly, it's quite possibly one of the busiest weeks of my life. Family issues, the Jewish New Year, midterms,
a free Arcade Fire concert yayayay!,
my cousin's 8th birthday (yay!) have all made me soooooo busy.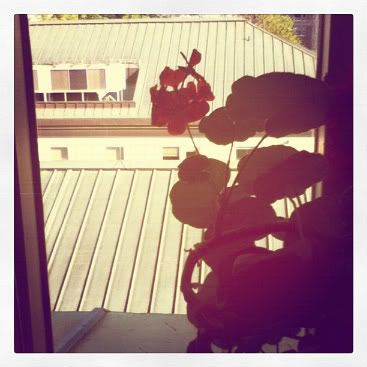 This is the view from the art history section of my school's library. Pretty, no? As annoying as it is to take public transportation for a good 45 minutes every morning and afternoon, I'm happy I'm at school downtown because the views from pretty much all the windows in the school are nice.
How am I nerdy enough to be taking pictures from the window of a library? Well, from now until the 2nd week of December I hae to write approx. 15 000 words (3 essays of about 4000 words) about neoclassicism in the early 19th century, since the topic of the class is War and Peace, by Tolstoy, so the topic has to relate to that. It's for my end-of-college, project, but anyways, I'll be in that section of the library quite a bit for the next 2 months.
Hence a lack of posting. A bit. Maybe. I hope not!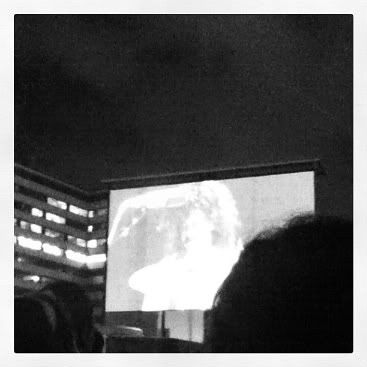 I WENT TO A FREE ARCADE FIRE CONCERT A WEEK AND A HALF AGO.
Enough said.
Just so you all know, the concert was sooooo crowded we actually watched a projection of the concert, but it was all good, the stage wasn't far at all so the ground was still vibrating from the loud music, the section it was in was only a few metres away from us, just very closed off since it was so busy. And, this way, we could see the up-close shots of the band members - including Regine's adorable dresses! (She wore this amazing red sequined dress with cutouts covered in a sheer material and sparkly red gloves! She's awesome. That's a picture I attempted to take of her on the screen).
Guess where I'm typing this from?
MY NEW LAPTOP!
It's sooooo fast, you guys! I watched a video on youtube and it didn't freeze up every 10 seconds like both my laptop and computer do! It's pretty! It charges quickly! It's not heavy considering it has almost 9hours of battery and is advanced and has a mini ventilation system, which means it doesn't get absurdly hot, which really isn't healthy for your reproductive system if it's on your lap! (Apparently.)
All to say: YAY! Now I just need to order an adorable Marc Jacobs laptop sleeve, teehee.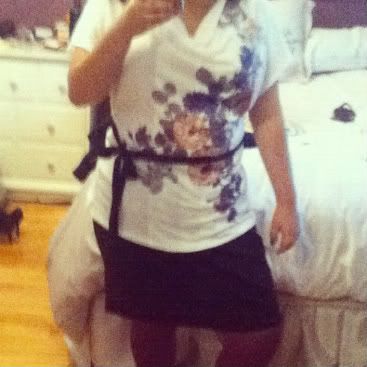 This picture represents my busyness because of the Jewish New Year. I was super excited about finally finding purple tights that fit me, were comfortable, and didn't look tacky, but I didn't even have time to make a proper outfit post for them! Or for the awesome outfit I wore for the first out of a million family meals, where I wore a draped black skirt, loose bright green top from the Material Girl collection, black&sheer striped tights, and black booties. Oh, and red lipstick.
And I didn't have time to photograph it at all. /fail
Happy new year, everyone!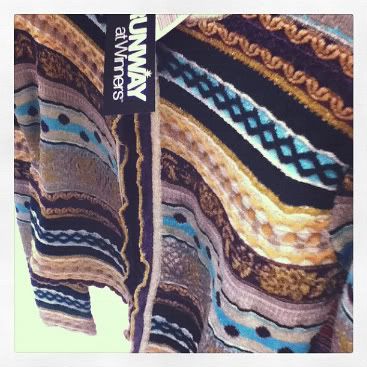 Wait, you mean it
is
possible to have Missoni clothing
out of the glorious-fashion-store-hoarder country that is the United States
in Canada?
Oh, wait. It's original, from a department store named Winners. For $400. Which is actually a really great price for Missoni (right?), but still. Thank goodness it was too small, otherwise my bank statement would have been jut a bit smaller now. Just a bit.
A book I'm reading right now (for fun, so not War and Peace and not the books on neoclassical art in 18th-19th century France):
Way of the Happy Woman: Living the Best Year of Your Life
by Sara Avant Stover. I might only be in the first chapter, but I'm already hooked. So far, it's been talking about how to properly take care of your mind-body state, a bit of ayurveda, yoga, a few recipes, and then it's divided into 4 sections by the season. I'm reading the autumn one right now and it has a few really nice recipes. A full review will come as soon as I'm finished it because it's pretty great, but even so far I highly recommend it.
Soon to come: what I thought about concerning my blog and what I want it to project and bring in while fasting for the Jewish New Year (and no, I'm not encouraging fasting at all, just writing about what I thought about when I was forced to take the day off from, well, life.)
EDIT: OMG and a post on the Jean-Paul Gaulthier exhibit I went to, it was awesome!
Tell me about your autumn so far! Any pumpkin-picking or apple-picking happening yet? I'm going to a market tomorrow with my family, hopefully we'll buy a pumpkin to bake :).
XO,
Laura
Disclaimer: I wasn't paid or compensated to mention anything here, it is my own content and my own ideas. The book links are Amazon affiliated, and by clicking on the links/buying the linked product I will profit, but I still choose which products I want to talk about and believe in.