My family and I are moving! It's kind of weird because I'm happy
and
sad. I'm sad because I've lived in the same house for my entire life, so it's hard to imagine living a life somewhere else. Also, I like being near the park, it's fun to go running in it, though I'll only be a few streets further in the new house. However, my parents and sister are so elated by the thought of moving that I've been trying really hard to be excited for them. Basically, I say we're cozy, they say we're squished, haha.
I am actually kind of excited, though, because of the practically endless design opportunities!
I'm (obviously) planning out my room, but I'm also planning out the bathroom and helping with the rest of the house, so I've been perusing home decor magazines and websites like crazy!
Some inspiration for my room:
Here's the main factor in the colour: my current bedspread, which is less than 2 years old (aka why I'm keeping it). It's pretty versatile, though, so it's not much of an issue.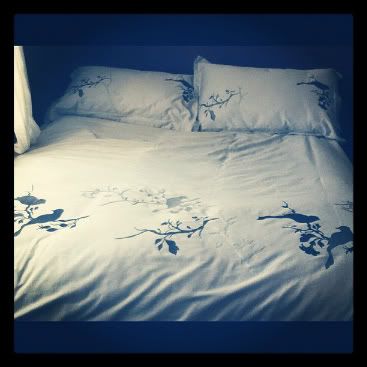 I really love the idea of one wallpapered wall that has a similar colour scheme as the rest of the walls! I've actually only seen my room once so I'm not sure if it'll go with my room since the longest wall, which is also the wall of the window, is the focal point of the room, and I'm not sure I want wallpaper on that wall. I hope it works out, though! I love the wallpaper below, I'd love one that's similar.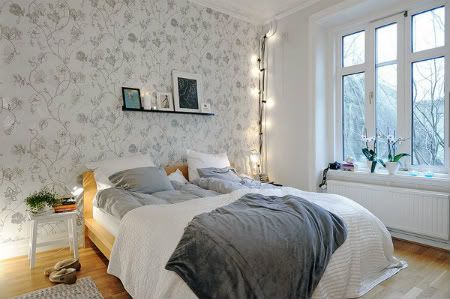 Although the hanging bandanas on top are kind of weird, at least in my opinion, I love the blue/green/yellow colour scheme, it's so cheerful and pretty!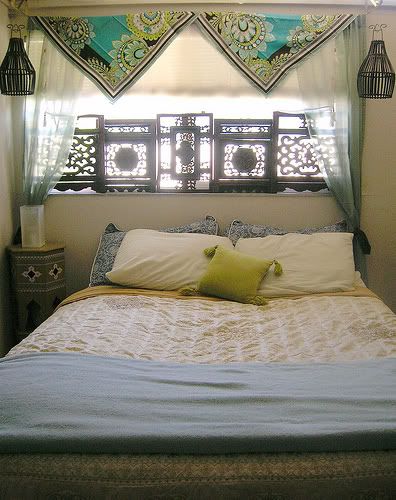 I love the idea of two-toned curtains, I'd never thought of that before! I also love the navy, off-white and pink combination.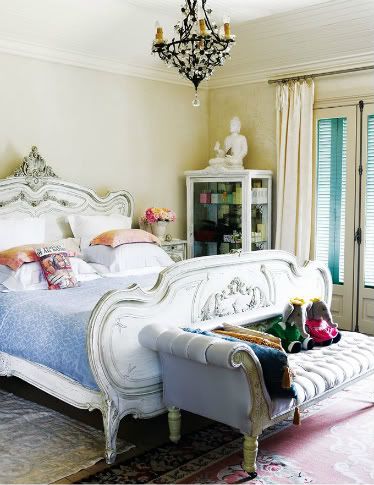 I really don't like the carpet, but I love the different tones of champagne and silver together!
I feel like this is too dark from my room, but I love the dark navy colour and how it's such a glossy sheen that it almost looks ombr
é.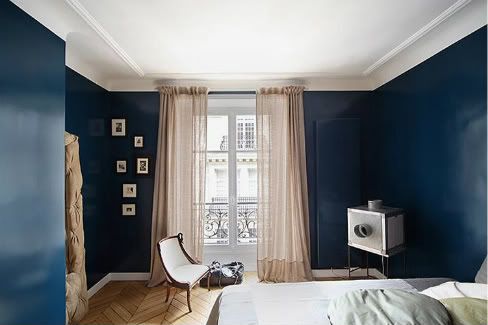 .
So, my room is much bigger than this, and I feel like it's bit
too much
colour saturation in the room, but I love the colour combinations and all the little details and different patterns. It looks exotic but still sophisticated and fun without getting to be too much!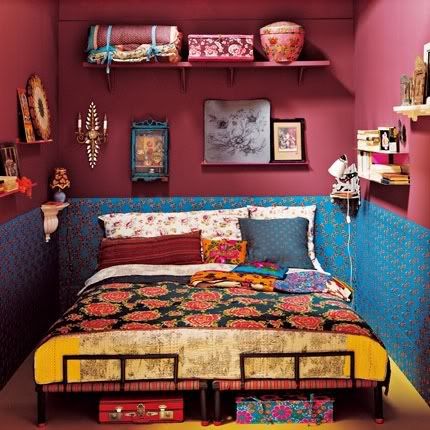 Although I love the red/black/white combination, I don't think that's what I want for my room. However, I
lovelovelove
the idea of a sheer black canopy! It's so dramatic yet elegant and goes with all colours and will keep the light out a bit when I'm trying to sleep but can be hanged up during the day to look less
Phantom of the Opera
-like (not that that's necessarily a bad thing). I'll for sure be looking for a black canopy! It's like the sexy version of a white canopy ;).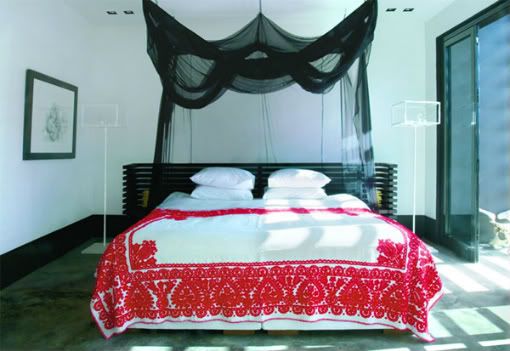 I also want to look into headboards! I think they're a great way to add an interesting flair to a room, and can make it look even more exotic, sophisticated, quirky - whatever look you're going for, it'll just emphasize it!
I think I want my walls to be a similar colour! Except a little more blue and less gray-ish lavender-ish.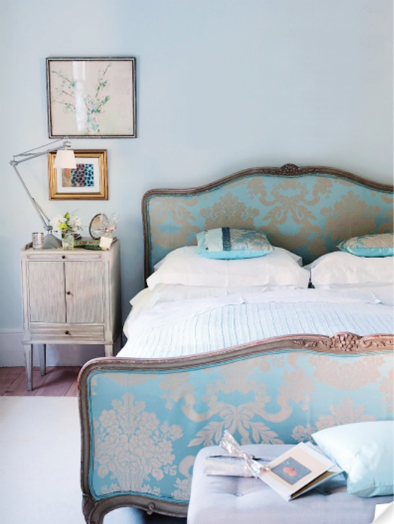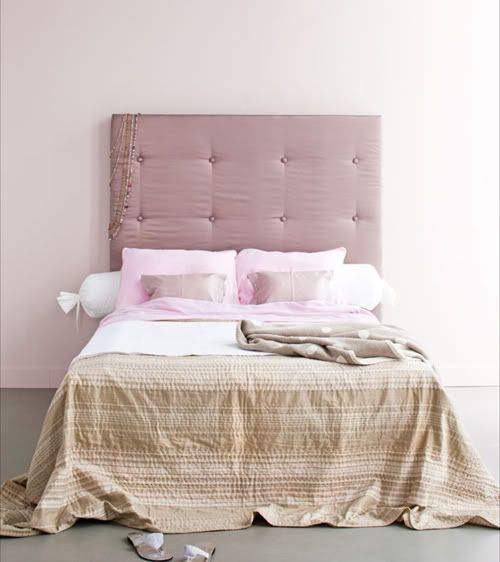 I love the idea of doing a lot with wall decals. As much as I want to make my room very interesting, I also want it to be practical, so wall decals might add that touch of flair to more practical items, like it does in this picture. They can also be changed pretty easily, so I can switch up the look when I feel like it!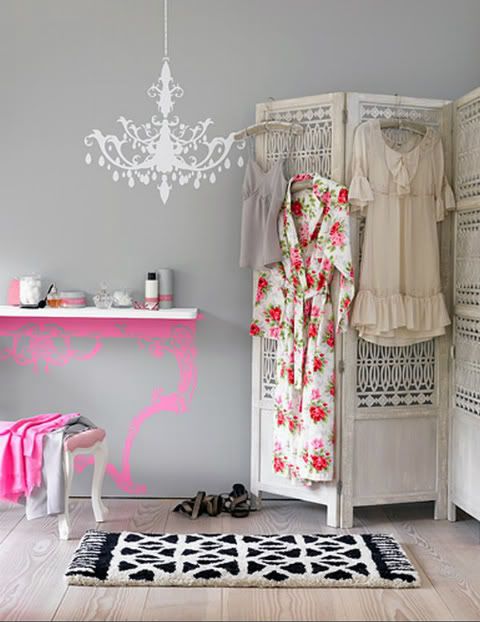 Overall, I feel like the following picture most sums up the kind of look I want for my room. The furniture represents the sophisticated, elegant and simplistic look I want, while the pretty light fixture and bowls represent the added touches of fun, colour, and exoticism I want to add to make the room more lively.
In the end, I'm thinking of making my walls a pale blue with bright touches in the form of decorations and details and a kind of elegant wallpaper in a tone close to pale blue, so it definitely pertains to the muted background with fun details idea :).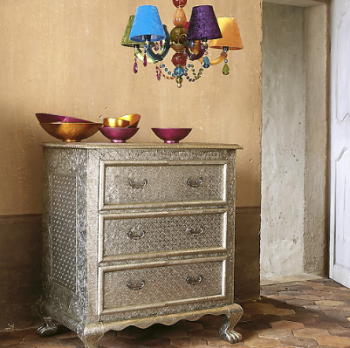 Pictures via
Mi casa es su casa
.
Coming up in the decor topic: bathroom decor and organization ideas, including closet storage and interesting bookshelves!
Do you have a favourite picture or idea from these pictures? What do you think of pale blue walls with a wall of wallpaper and bright accents around the room? Do you have any horror stories, tips or tricks, or recommended books/magazines/websites for home decoration/interior design, and moving?
XO,
Laura.