So, lately, I just
can't
seem to find any inspiration to draw from! (in order to draw, haha!) I've been going over a few of my older dress designs, seeing what can be improved and fixing a few things here and there, stuff like that, which
is
better than nothing, I guess...
So, I figured, while I try and get my inspirations back and while I'm still recovering from getting my wisdom teeth taken out yesterday (not too bad, actually...), look at my favourite collection from the pre-fall 2011 collections that just came out:
OSCAR DE LA RENTA, PRE-FALL 2011!!!!!!!!!!!!!!!!!!!!!!!!!! It might just beat out one of my other favourite collections over the past 2 years or so, which is the Marc Jacobs spring/summer 2011 collection.
A few of my favourite looks: (Thanks to
style.com
for the pictures).
Sorry guys, but this has to be said:
Dear Karl Lagerfeld/Chanel,
This is how you do elegant but good-for-everday tweed. Not like that terrible collection you did last year with the bell bottom tweet pants with the random fur extentions at the bottom and the tweet jackets with random fringes coming out between the buttons which might've been in style in Siberia for drugged up teenagers in the 70's.
Thanks for your latest Byzantium Empire-inspired collection, though!,
Laura.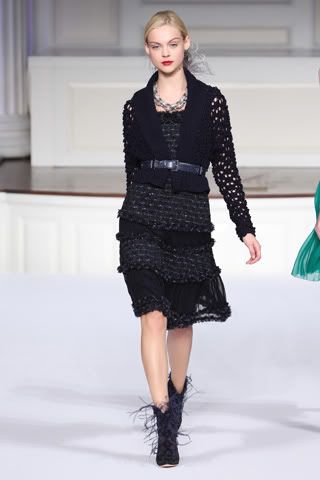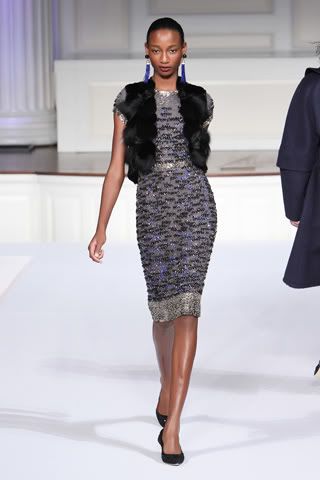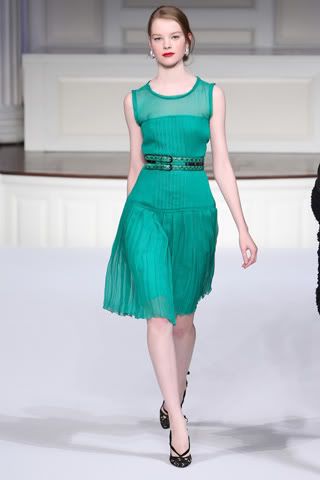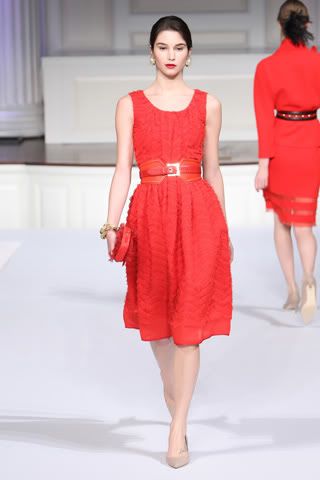 For this look, I love both the jacket and the dress, but I kind of wish they could've shown
just
the dress this time, because I feel like seeing the dress as a whole would've made an amazing impression since it's kind of perfect.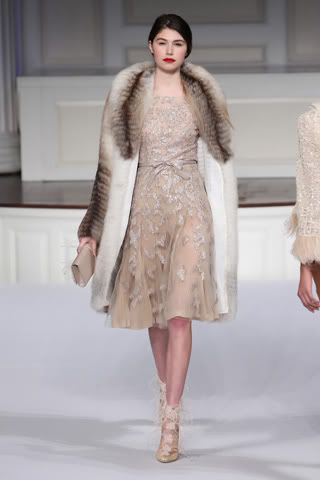 Elegant much?!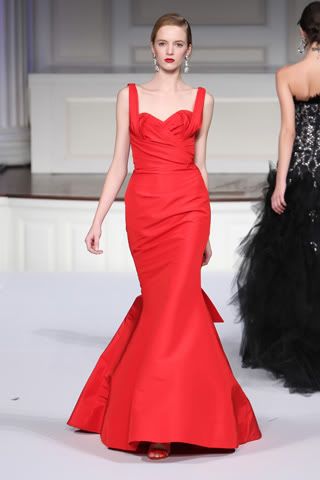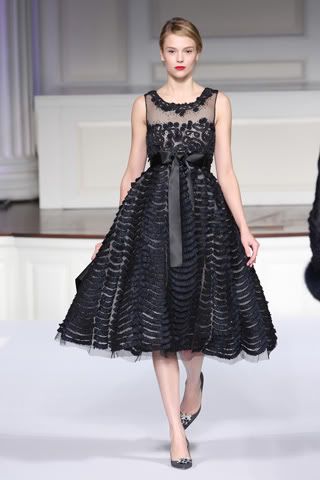 This is interesting because, even if it's a very, very pretty dress, it's by no means incredibly unique or as gorgeous as many other pieces in this collection, and even if the colour is great the belt is kind of tacky, in my opinion.
However
, when I saw a picture of this dress on another site advertising style.com's albums of pre-fall collections, I
immediately
knew it was Oscar de la Renta, which, in my opinion, says a lot about how talented and coveted Oscar de la Renta is; he designs gorgeous and unique dresses, but still retains the shapes, colours and ideas that make his designs and his design house
his
. Am I making sense?
This is quite possibly my favourite out of all of these pictures, but I might be biased because this is the one that would most likely look
really, really amazing
on me. Considering the shape, colour (black with hints of gray/silver, giving a nice, softening effect), and how I'm very petite, so the minimalism of the top of the dress compared to the feathers at the bottom would look interesting. I think.
This is really gorgeous and classy but I feel like it'd be a lot of fun to wear, I imagine it'll be really, really popular on runways and at red carpet events!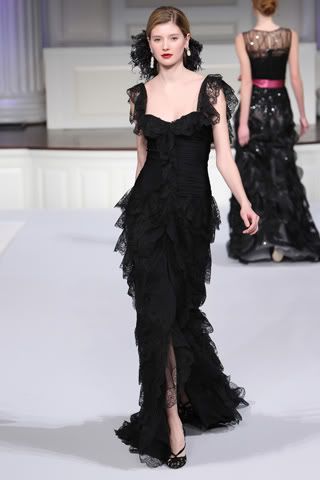 Anyways, here's to hoping I get a bout of inspiration soon! Maybe if I stop looking for inspiration so much, it'll come to me...
xo,
Laura