Remember, how in my
Summer Vacation post
, I posted a few photos of Christy Turlington, wearing white in a tropical setting (which was Kenya)? Well, one of the pictures I didn't use was a collage of a few shots of Christy and Kenya: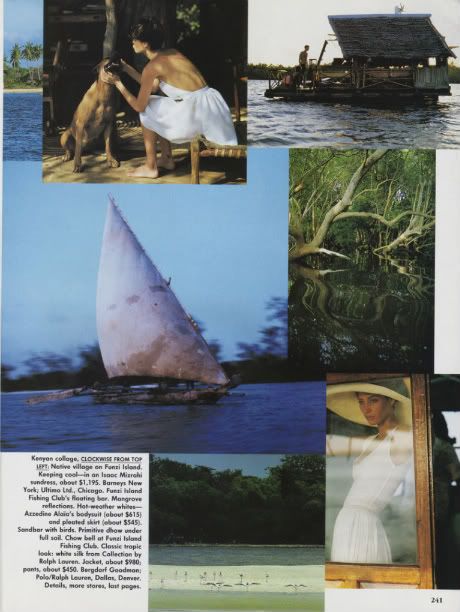 If you can't see what's written on the bottom left corner, here's what it says:
"Kenyan collage, clockwise from top left: native village on Funzi Island. Keeping cool - in an Isaac Mizrahi sundress, about $1195, Barney's New York... Funzi Island's fishing club floating bar. Mangrove reflections, hot - weather whites - Azzedine Alaia's bodysuit (about $615), and pleated skirt (about $545). Sandbar with birds. Primitive dhow under full sail. Chow bell at Funzi Island fishing club. Classic Tropic look: white silk from Collection by Ralph Lauren. Jacket, about $980; pants, about $450. Bergdorf Goodman, stores, details, etc..."
What you should take from that:
the few outfits in that collage come up to approximately $3785.
(More after the jump.)
That
really
caught my attention. Compared to a lot of fashion, that isn`t even an insane amount of money, though this editorial was about 20 years ago, meaning the price of those outfits now are a bit higher. I mean, seriously, a pair of shoes or an evening gown can go for that price, and Isaac Mizrahi, Alaia and Ralph Lauren are prominent design houses.
It just seemed...a little weird juxtaposed in an editorial taking place in Kenya, albeit a beautiful editorial. That much money could have done
a lot
for the people in the area of Kenya where this was photographed, or for Africa and social activism in general.
I'm not saying we shouldn't spend money on expensive clothing because we feel bad about less-developed countries, and social activism is definitely present in the fashion world - take Coco Rocha, for example, who has
a page dedicated to her charity endeavours
, such as her
Letters to Haiti
campaign. There are also campaigns to raise money for causes such as eleminating AIDS, and helping out children in countries not as well-off as ours.
That's fabulous; fashion is an industry that's often seen as superficial, while taking an interest in social justice and activism shows that it's not completely.
Is it enough, though?
We may raise money for different causes, but is the meaning counteracted by the fact that we wear thousands of dollars worth of clothes for photoshoots, which can be in less-developed countries?
Are the people in that area given temporary employement opportunities, whether that's helping out with the set or helping the photographer? Or are they snapping photos, sometimes with people from the area in them, without helping them financially whatsoever?
Am I the only one a bit...uncomfortable with the stark contrast between high fashion photography and shooting in a less-developed country?
Or are we really doing enough by just raising money, and who cares about the meaning behind shooting in poorer countries?
Thoughts, anyone?
xo,
Laura S.