No matter if you call it a boater hat (me), a Madeline hat (my mom), a Fred Astaire hat (my dad), a silly hat (my little sister), or simply
un
canotier,
in French, you have to admit it's a pretty adorable hat.
Which is why I want to thank Stephanie of
Modern Antoinette
for posting pictures of her boater hat, because that's where I discovered they were selling them at Ardene! Which is amazing, because there's one right next to my school, and I've
literally
been looking for one for years, but they were always too expensive.
Feel free to give me your opinions on how it looks, though, in the end, I probably won't care if you say I look completely ridiculous because I'm just too happy!
(Oh, and sorry for the crappy picture quality, I can't seem to find anyone to come to the park or somewhere pretty to take pictures of me, so I had to make to with stacking the camera on a few books on my desk and putting the timer. Even photoshop couldn't save the lighting...)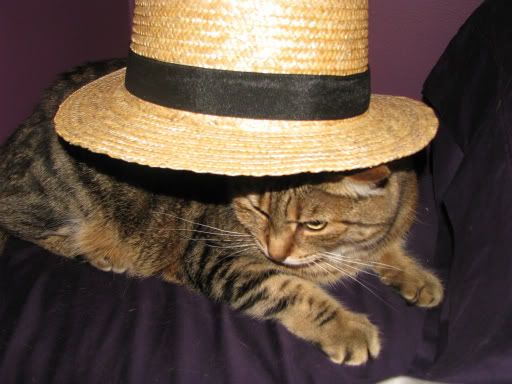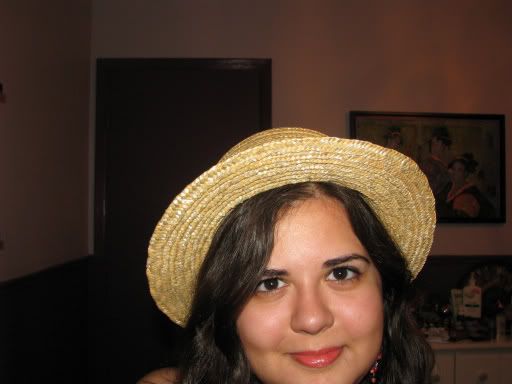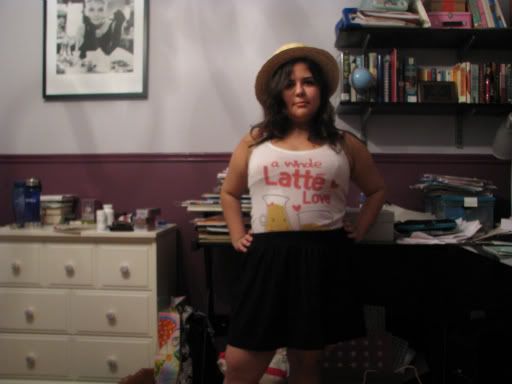 I think I also need to work on my posing, hehehe.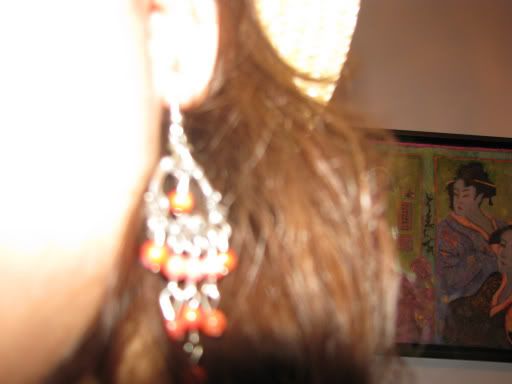 I also got these really pretty silver and orange earrings at Ardene! At some ridiculous price like $4, on top of that! Aren't they pretty? The geisha women in the background are looking at them with interest! (That's a gorgeous painting my bubby painted for me, by the way. I
think
she has her own website, if you guys are interested!)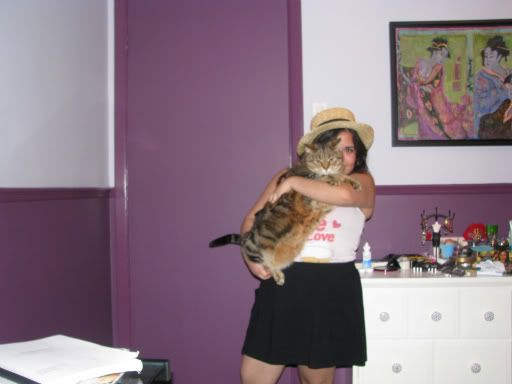 My attempt at a family photo with Cleo. I guess it was
kind of
successful, though I wasn't really holding her properly, sorry baby!
What I'm wearing:
- Boater hat from Ardene.
- Black skirt from Forever 21.
- Red almost-bustier-style tank top passed down from my great-aunt.
- "Whole latte love" tank top from Forever 21 (how adorable is it?!)
- Silver and orange earrings from Ardene.
Makeup:
- Coral/almost orange lipstick from Clinique
- Orange lipgloss from Bonnebell (they don't test on animals!)
- Aqua blue eyeliner called "Curacao" from Annabelle.
Also, happy beginning of summer vacation to me! Except for an (apparently easy) exam I have to take next Wednesday in order to graduate next semester, and an essay I have due that same day, I'm completely finished!
xo,
Laura